Find out which paleo protein bars are actually Paleo and which ones are not. Plus, which products have the most protein and the least amount of sugar. For example, some bars use sweeteners such as agave nectar while others use none. Additionally, some paleo bars contain high fiber, grass fed meat or just vegan ingredients. Some even taste like homemade cookies! Pick the bars you like best…
Paleo Bars

Protein (grams)
Carbs (grams)
Sugar (grams)
Soy, Dairy, Gluten-Free
Rating 1-5
Fat (grams)
Calories
First 6 Ingredients
Notes

Paleo Protein Bar
SunButter, 2.05 oz



20
28
1
yes
5
3
150
Egg whites (cage-free), organic prebiotic fiber (from tapioca), organic sunflower seeds & monk fruit extract.
High fiber (23g) plus contains only 4 ingredients.
See Paleo Protein Bar Review

Raw Revolution Bar
Chocolate Crave, 1.8 oz



7
22
12
yes
4.0
15
210-230
organic cashews, organic sunflower seed kernels, agave nectar, organic dates, organic cocoa, organic almonds
Vegan, no added sugar or salt, organic.
See Raw Revolution Bar Review

Tanka Bar
Buffalo Cran
1.0 oz



7
7
6
yes
4.5
1.5
70
Buffalo, dried cranberries, sugar, sea salt, red pepper, onion

Nitrites-free, hormone-free.
See Tanka Bar Review

Caveman Bar
Almond Cashew, 1.4 oz



6
15
7
yes
4.5
14
190-210
almonds, sunflower seeds, brown rice syrup, cashews, evaporated cane syrup, pumpkin seeds
Minimally-processed, all natural. this flavor contains chia seeds.
See Caveman Bar Review

Bravo Bars, Chocolate 48g



13
23
17
contains dairy
4.5
12
230
coconut nectar, semi sweet chocolate chips, raw pepitas, raw sunflower seeds, raw almonds, dried cranberries
Homemade taste and texture, higher protein, grass-fed whey.
See Bravo Bar Review

Bearded Brothers
Ginger Peach Bar, 2 oz



6
27
20
yes
5
13
238
Organic dates, organic almonds, organic walnuts, organic dried peaches, organic fresh pressed ginger & organic chia seeds.
Ginger adds spice plus fights inflammation.

Protein Puck
Sun Butter, 46 g



6
18
10
yes
5.0
17
240
agave, sun flower butter (sun flower seeds), coconut, almonds, sunflower seeds, pumpkin seeds
Vegan snack or meal substitute.

PaleoLife Bar
Cocoa-Nut, 2.4 oz



17
27
2
yes
4
25
340
organic cashew butter, organic almond butter, organic rice protein, organic vegetable glycerin, organic walnuts, organic pumpkin seeds
Includes organic virgin coconut oil for brain health.
See Paleo Life Bar Review

RxBar 1.83 oz



12
24
15
yes
4.5
8
200-240
(in apple cinnamon bar) dates, egg whites, almonds, figs, apples, cinnamon, natural apple flavor

Higher protein bar, protein derived from egg whites.
See RXBar Review

Epic Protein Bar 1.5 oz



14
9
6
yes
4.0
6
70-150
(turkey-almond-cranberry bar) turkey, almonds, dried cranberries (cranberries, apple juice concentrate), lactic acid culture starter, seasoning (coriander, cumin, nutmeg, red pepper, dehydrated garlic, paprika, dehydrated onion)
All-natural grass-fed meat bars.
See Epic Bar Review
Paleo protein bars typically contain healthy, whole-food ingredients. However, you want to check the ingredient label because marketing can be deceptive. In fact, some products may surprise you. Here is a checklist of the 9 types of ingredients you want to avoid:
Chart Notes on the Paleo Protein Bars:
Most paleo protein bars are all gluten-free, dairy-free and soy-free. Therefore, I combined them into one column and noted if otherwise.
The price listed is per bar. Keep in mind that some products are larger than others, however, the size doesn't vary too much.
Products are usually sold in boxes of 8-15, therefore they are cheaper than when purchased individually.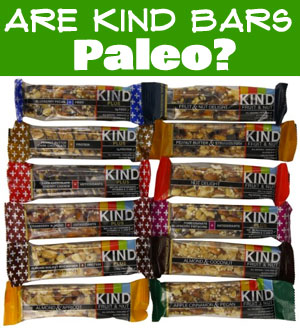 … What About KIND Bars?
In addition, KIND bars have all-natural ingredients and don't contain gluten. Plus, they have low glycemic levels (minimal sugar). However, all flavors that I saw contained puffed rice – which some paleo eaters may not (or may) like.
Anyway, if you want to check them out, you can get more information here.